THE STORY of ALBRIGHT
The Albright Fashion Library is an essential stop for the fashion elite. Every day, stylists, editors and designers visit the 7,000-square-foot showroom to make use of a comprehensive yet impeccably edited collection of some 20,000 items. Offering an archive of classic pieces—from Chanel suits to Dior gowns, from Gucci belts to Manolo Blahnik pumps—as well as contemporary looks by some of the most exciting young designers working today, the Library's encyclopedic holdings dazzle and inspire.

Irene Albright worked for years as stylist and consultant to some of the fashion world's most prominent magazines and photographers. Finding that other showrooms in the city couldn't satisfy her creative imagination, she opened her own, in 1990. In a tribute to the infamously footwear obsessed former First Lady of the Philippines, the business was originally called Imelda's Closet. Using her superb eye and extensive connections in the industry, Albright went on to amass an unrivaled collection of high fashion both vintage, cutting-edge, and even prospective: the Albright Fashion Library has the upcoming season's looks in stock before department stores do.

While the fashion-savvy love perusing the racks of looks and accessories (there are more than 3,000 pairs of current designer shoes, luxury bags and jewels to consider), they return again and again for the Library team's deep expertise, peerless taste and collaborative spirit. Relationships are forged here.

Working with some of the best—and most opinionated—talent in film, editorial fashion, advertising and theater, the Albright Fashion Library helps clients source inspired looks for photo shoots, films, performances or special events.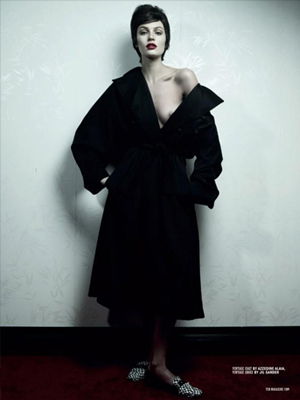 Whether a celebrity needs an Edwardian-inspired dress for the red-carpet premiere of her new historical epic, or a cosmetics brand needs a rack of pieces in hues that perfectly complement its new bronzer, the Library team is committed to meeting any need.

Creative director Patricia Black heads a team of young, dynamic staff who understand the emotional landscape of fashion: the stylist's inspiration, the costumer's muse, the target of the consumer campaign, or the spirit of the newest "It" girl. Clients throughout the industry trust her strong point of view and ability to deliver exactly what they need, within any budget. Black and her team understand the importance of fashion looking not merely expensive or trendy, but RIGHT.

On any given day in the showroom, fashion mavens from around the world examine dresses, evening gowns and accessories neatly organized first by designer, then category and color. The space delights the eye with rows of metallics, brilliant reds and fur accessories, wardrobes of jeweled accessories and handbags, and much more—but such an abundance of choices can be overwhelming, even for regulars. Enter Black and her team.

They'll find the head-turners, dresses that captivate and showcase fashion stylists' talents—and raise their profiles.

They'll help editors who need to dress Hollywood's A-list or create a must-see editorial, collaborating on the kinds of looks that win awards and break new creative ground—without the obligations of studio services.

Providing unparalleled service is what the Library does best. Clients in London, Paris or beyond can send a mood board or other specs; Library staff will pull and photograph looks, and send pieces selected for shoots or events just about anywhere in the world.

Stylish professional women—on Wall Street as well as in publishing and the entertainment business—seek out Albright's expertise for their own red carpet occasions, or just for a special evening out. The Library team will dress day-of clients from head to toe in less than an hour.

And when they walk out, they'll be ready to turn heads.